Advisor
Hiroshi Tanimoto
Position
Adjunct Professor (Visiting)
Expertise
Atmospheric Chemistry, Environmental Science, Global Biogeochemistry
Ph.D.
Atmospheric Chemistry
E-Mail
tanimoto (*add @nies.go.jp)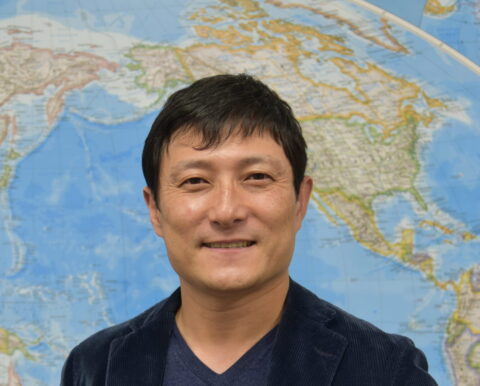 Short Bio.
Hiroshi Tanimoto is the Head of Global Atmospheric Chemistry Section at National Institute for Environmental Studies (NIES) in Tsukuba, Japan. He received his PhD in Chemistry from The University of Tokyo in 2001 and was a visiting scholar at Harvard University during 2007–2008.
Dr. Tanimoto has been working in the field of atmospheric composition in Asia and Oceania regions. Over the past years, his group has developed novel instruments, made field measurements at surface stations and on ships, and analyzed the data with extensive use of chemistry-transport models and satellite observations to investigate atmospheric chemistry and its impacts on global change. In particular, he has been studying tropospheric ozone issues, including long-term ozone trends in East Asia, contributions from anthropogenic/ biomass burning emissions, and long-range transport of ozone and its precursors. He also extended his research to air-sea interaction and ocean biogeochemistry.
Dr. Tanimoto plays a key role in all international, Asian, and Japan's scientific communities. He has served for the International Global Atmospheric Chemistry (IGAC) project as an SSC member through 2012-2016, and then as the co-chair through 2017-2020. He is continuing to serve as the leading co-chair of IGAC-MANGO. In 2019 he started serving as the co-chair of the CEOS AC-VC (Committee on Earth Observation Satellites, Atmospheric Composition-Virtual Constellation). In Japan he is a key member of Japan's atmospheric chemistry community, serving as the chair of JpSAC (Japan Society of Atmospheric Chemistry) through 2017-2020, and the chair of IGAC-Japan National Committee through 2009-2020.
Career
2021 –
Research Director of Climate Change and Air Quality Research Program, and Head of Global Atmospheric Chemistry Section, National Institute for Environmental Studies
2010 –
Head, National Institute for Environmental Studies
2005 – 2010
Senior Research Scientist, National Institute for Environmental Studies
2001 – 2005
Research Scientist, National Institute for Environmental Studies
1996 – 2001
The University of Tokyo, Graduate School of Science, Department of Chemistry
1994 – 1996
The University of Tokyo, School of Science, Department of Chemistry
1992 – 1994
The University of Tokyo, School of Arts and Sciences
1988 – 1991
Takamatsu High School, Kagawa Prefecture
Students
Chi NGUYEN DOAN THIEN (2023/04 – )


Research subject

Analysis of air pollutants emission sources with satellite and ground-based observations