Earth Observation Satellites
Project
Establishing a ground-based atmospheric observation network in South America with international cooperation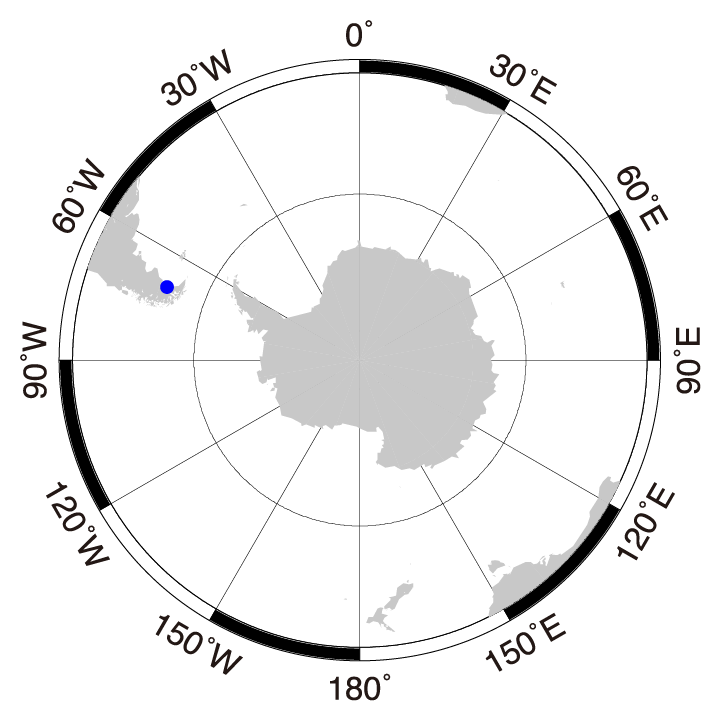 The blue circle shows the location of Rio Gallegos, Argentina (52°S, 69°W). The latitude range is 30-90°S.
The SAVER-Net project, an international joint project with Chile and Argentina under the SATERPS (Science and Technology Research Partnership for Sustainable Development) program established by JST and JICA in 2012, was implemented in the 5-year plan between 2013-2017. In this project, a ground-based atmospheric observation network was developed with international cooperation in the South American region, where advanced observation facilities, especially for ozone, ultraviolet, and aerosol, are virtually non-existent.
Of these observation projects, we participated in the research on stratospheric ozone. We conducted monitoring observations at the Patagonia Atmospheric Observatory (OAPA) in the southern part of Rio Gallegos, located at the southern tip of South America, using a differential absorption lidar (DIAL), millimeter-wave spectrometer, Brewer spectrometer, and ozone sonde, and conducted observations during an intensive observation campaign at the time of the ozone hole collapse. By these observations, we captured the variations in the vertical distribution of ozone both inside and outside the polar vortex and in the boundary region.
Project outline [JST website]